No longer made just for office boardrooms or cinemas, projectors are perfect for displaying your favourite content either at home or on the move.
This buying guide is here to help you understand the different types of projectors and the technology that is available, from home cinema projectors to office projectors and everything in between. We've answered some key questions you may have about short and long throw projectors, portable projectors and more, to help you decide which model is right for your needs.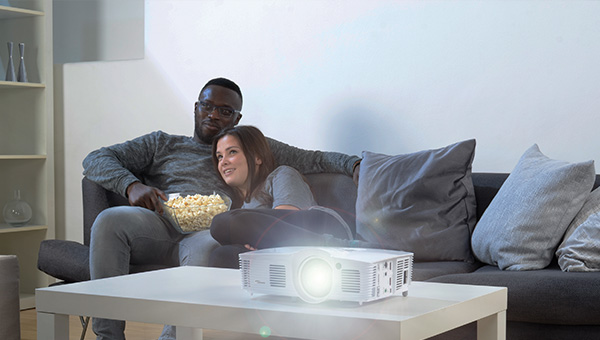 Contents
Types of projector
Projectors come in different shapes and sizes for a variety of purposes, so we've split them down into their own groups - Home Cinema Projectors, Portable Projectors, Office Projectors, All in One Projectors and Compact Projectors.
Types of projection
There are two types of projector to suit different room sizes. Choose between long or short throw projectors depending on whether you need to display images in a large or small room.

Resolution
Simply put, this is how many pixels the projected image is made up of. Generally, the higher the number of pixels, the more detailed the picture quality will be.
Lumens
The number of lumens relates to the brightness of the projected image. The higher the lumen count, the brighter the image will be.
Connectivity
Projectors can connect to set top boxes, Blu-ray players and streaming devices, as well as laptops, tablets, phones and games consoles. Enjoy enhanced audio by connecting sound bars, speakers or headphones.
Jargon buster