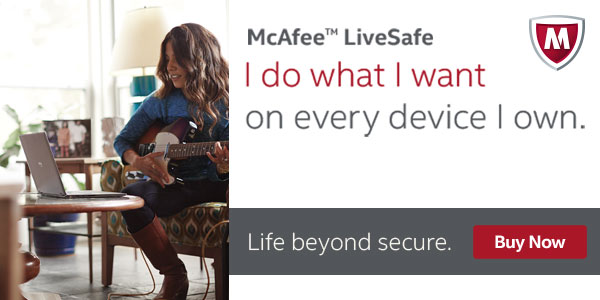 Life beyond secure.
We live in a time where everyone, and everything, is connected to the Internet. Smartphone and tablet use is growing at 10 x that of PCs, and we're using these devices to do more and more things. This is why it's so essential to be aware of and guard against threats that can affect your devices.
McAfee's latest products don't just focus on your PC or mobile device – they focus on you and your digital life. Along with whatever device you're using, they protect your personal data and information, so that you can get online with complete peace-of-mind. McAfee LiveSafe, Internet Security and Total Protection now work with all Android and iOS tablets and smartphones, along with Windows PCs and Apple Macs.
McAfee Security Range
McAfee® Internet Security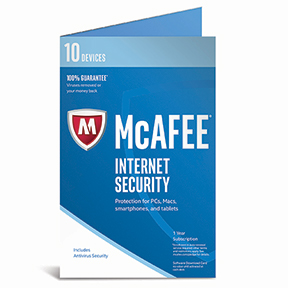 Trusted antivirus and identity management for every device you own.
Award-winning protection for your PC, Mac, smartphone and tablet
Prevent annoying SPAM emails from clogging up your inbox
Quickly and easily log into your devices, favourite sites, apps, and more using facial recognition
McAfee® Total Protection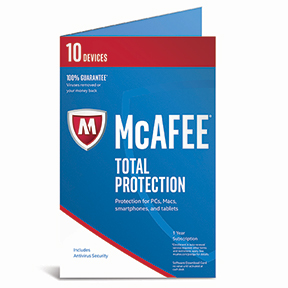 Trusted antivirus, identity management, and privacy protection for all your devices.
Award-winning protection for every device you own
Quickly and easily log into your devices, favourite sites, apps, and more using facial recognition and attributes unique to you (multi-factor authentication) - 5 users
Encrypt files stored on your Windows* PCs
McAfee® LiveSafe™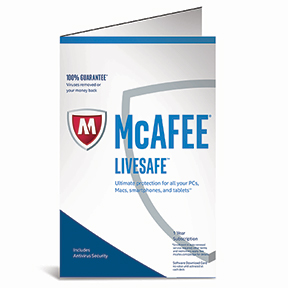 Ultimate protection for your data, identity, and privacy for every device you own.
Award-winning protection for every device you own
Quickly and easily log into your devices, favourite sites, apps, and more using facial recognition and attributes unique to you - 5 users
Securely store sensitive documents in the cloud, and easily access them on the go
Compare the McAfee range
| | | | |
| --- | --- | --- | --- |
| | McAfee® Internet Security | McAfee® Total Protection | McAfee® LiveSafe™ |
| | | | |
| Users | 1, 3 and 10 | 5 and 10 | Unlimited |
| Free 24/7 support for the life of your subscription | | | |
| Award-winning anti-virus for your Windows® PC | | | |
| Permanently delete sensitive digital files | | | |
| Avoid risky websites and prevent dangerous downloads | | | |
| Protect every device you own with the same subscription at no extra costs | | | |
| Anti-Malware, Firewall, Network Manager, and Web Safety tool for Mac® | | | |
| Anti-theft and File Protection for iOS tablets and smartphones | | | |
| Data Backup, Anti-theft, App Privacy, and Wi-Fi Protection for Android tablets and smartphones | | | |
| Use the True Key™ app to safely store all your user names and passwords | | | |
| Block annoying and dangerous emails with Anti-SPAM | | | |
| Keep your kids safe with parental controls | | | |
| Protect your privacy with encryption software | | | |
| Securely store and access photos and important documents in the cloud | | | |
Additional features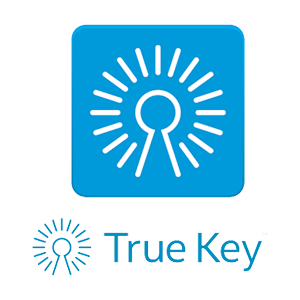 True Key™ is the easier, safer way to unlock your digital world.
Access everything that's important to you without the hassle of having to remember multiple passwords. With True Key by Intel® Security, you are the password. Unlock apps and websites using things unique to you, such as your facial features or the devices you own. From there True Key helps make your current passwords stronger, remembers them and instantly logs you in.
Find out more
Why use True Key?
Easy: You don't need to remember multiple passwords and can enjoy instant access to apps, software and websites.
Safe: Multiple unique factors unlock your devices for much stronger security. Military-grade encryption keeps your data completely secure; even if your device is lost or stolen.
Private: Your True Key info is never seen or stored anywhere, so it can't be stolen or copied.
Choose a mixture of ways to sign in
Face
The True Key app measures your unique facial features to sign you in.
Fingerprint
Use your device's fingerprint reader to sign in to the True Key app with a simple swipe.
Smartphone
When you sign in on your PC or Mac, you can receive a notification on your smartphone. Just swipe the screen to verify it's you.
Master Password
The only password you need to remember - log into True Key using your master password to automatically add individual passwords to apps and accounts.
Email
The True Key app will send an email to your inbox - just click on the link to verify it's you.
Trusted Device
True Key recognizes which devices are yours and notifies you if a sign-in is attempted on a device other than your own.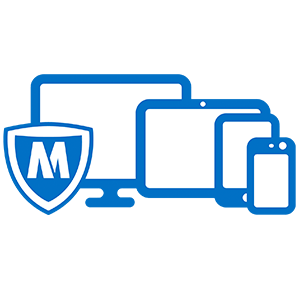 Improved Mobile Security
Have you ever lost your phone and all the data on it? Do you shop, bank, and search on your mobile devices like you do on you computers?
McAfee Internet Security, Total Protection, and LiveSafe include full mobile device security with new features such as a home screen widget and battery optimiser. It also includes loss prevention for Android Wear Watches along with well-known features like backup, locate, and wipe. It safeguards your devices from data loss and theft, and against risky apps and other online threats to give you complete peace-of-mind.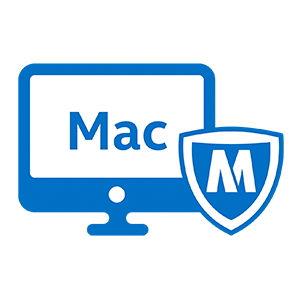 Mac Protection
All McAfee products now look after your Apple iMac and MacBook. Mac users may not be affected by PC-based viruses, but the Internet carries risks to OS X as well. This all-inclusive security software defends against hackers, identity theft, phishing scams, malware, viruses and more. It protects your family from unsafe or unsuitable websites and lets them surf the web without worry. The firewall allows you to restrict specific apps and software from communicating via Internet or local area networks.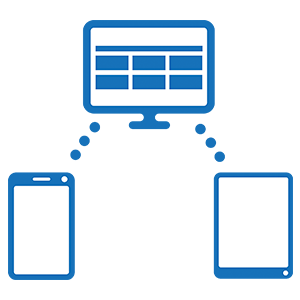 Security management console
A completely redesigned online management console allows you to check the security status of all your protected devices, as well as view a display of your mobile device's location.
You can easily share security with your other devices using the 'Protect More' and 'Search My Network' features. Management functions are easily controllable, and include useful features such as locate, lock, and wipe for mobile devices and connection status for Android wearables.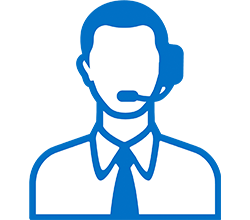 Unlimited device security & free support
All McAfee security suites now provide complete protection for each PC, Mac, smartphone and tablet you own. As well as this, all products come with free customer support - you can contact a McAfee expert via live chat or phone for free (local phone costs may apply).
✝License applies to personal use on supported devices you own during your subscription; see system requirements for details. Some features require additional configuration and/or hardware. To find out if your device is supported, go to: www.mcafee.com/SystemRequirements
*Other names and brands may be claimed as the property of others.