TV Buying Guide
The perfect TV for you depends on what you love to watch and how you like to watch it.
This buying guide will help you to understand the different features televisions can have and will answer the important questions that will help you decide on the right model for you.
As well as helping you to pick the best TV, this guide will also help you to complement your new set with a range of accessories. From sound bars and home cinema kits to cables and wall mounts, we'll make sure you have everything you need to build your ideal entertainment system.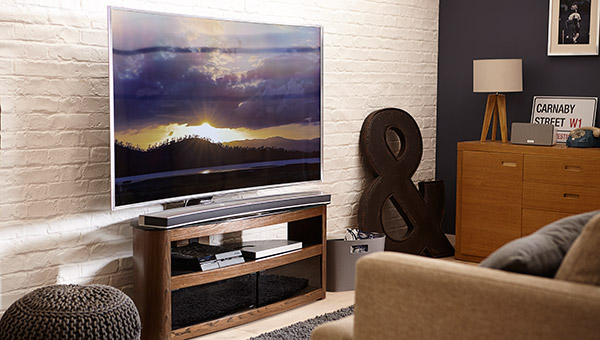 Screen size
Screen size is measured diagonally from corner to corner and only includes the actual visible screen itself, not the surrounding bezel.
What size TV screen should I go for?
You can go bigger than before
Thanks to narrower bezels surrounding TV screens, you can fit more screen in the same space as you used to be able to. A modern 50" TV takes up roughly the same size as a 42" TV did back in 2008, so if it's been a while since you bought one, consider going up a few sizes.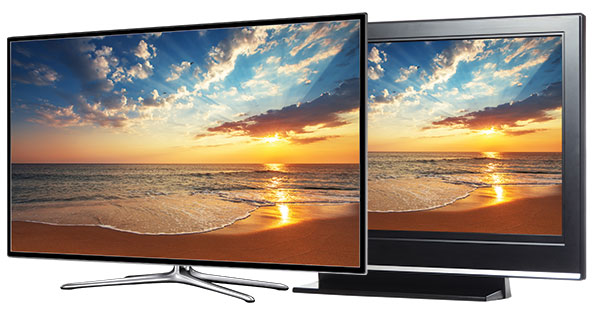 How far away will you be sitting?
If you're not sure where to start, think about where you'll be watching from. If you can work out how far away you will be, you can use the diagram here as a good rule of thumb for TV screen size.
The figures on the diagram are just suggestions, and the size of your TV is ultimately down to personal preference. If you need more help we have also developed the TV Size Finder app. It has been designed to help you choose the perfect size TV for your room.
Download the app here: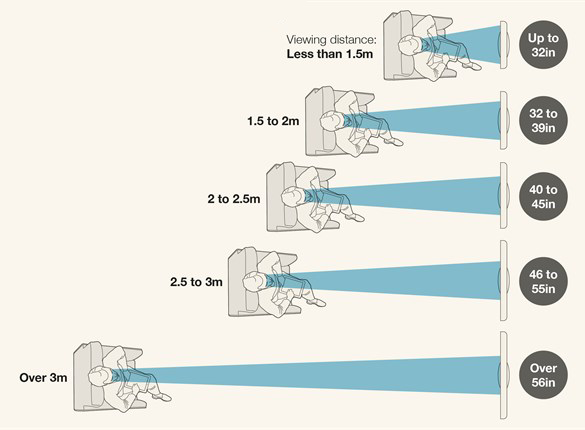 Already decided on screen size? Shop the range:
32" – 39" TVs
40" – 45" TVs
46" – 55" TVs
56" TVs and above
Shop full range

Picture quality
Picture quality is probably the single most important factor when considering your next TV. The key things to consider are:
Resolution – simply put, this is how many pixels the TV screen is made up of. Generally, the higher the number of pixels, the more detailed the picture quality will be.
Processing rate – this is how fast the TV processes the screen changes. The higher the processing rate, the smoother the picture will be even in the most action-packed events such as films or sports.
What is a 4K TV or Ultra HD TV vs. a Full HD or 1080p TV?
4K or Ultra High Definition TVs are the latest advancement in TV technology. These TVs have up to four times the number of pixels of a Full HD or 1080p TV, meaning you get an image that is up to four times sharper than a standard Full HD TV.
A Full HD TV has just over 2 million pixels comprising the picture (1920p horizontally x 1080p vertically).
A 4K Ultra HD TV has over 8 million pixels comprising the picture (3840p horizontally x 2160p vertically).
With all these additional pixels making up the picture on your TV screen, the brightness of the colours, the sharpness of the images and the overall clarity of the picture are vastly improved. Most premium 4K TVs will upscale standard content into near 4K quality - look out for TVs with HEVC video compression for upscaling technology. Watching content that was shot using a 4K camera will give the most true 4K picture and allow you to fully benefit from this technology.
View all 4K TVs from:
Sony
Samsung
Panasonic
LG
What can I watch in 4K Ultra HD?
More and more content is now becoming available to view in 4K. Blu-ray players that upscale standard Blu-ray discs to 4K quality are now available, whilst 4K Blu-ray discs are currently set to be available by the end of 2015. Currently, streaming services such as Amazon Instant Video and Netflix offer the best chance to view in 4K. For example, Netflix now shoot all their own produced shows in 4K, and there are also 4K videos on YouTube. We recommend broadband speeds of over 20 Mbps to view buffer-free, and your TV will need to have a HEVC decoder to read the compressed files.
Most brands also offer a choice of 4K content as part of the TV operating system. Each brand is different so it is worth researching what they offer, or speak to a colleague in store.
What are TV processing rates and why do they matter?
TV processing rates work in much the same way as your computer processor might. If you watch lots of sports or fast-paced movies, the number of scene changes are frequent and these put a strain on your TV. The higher the TVs processing rate, the easier it handles these quick changes.
Traditionally, processing rates were always measured in hertz (Hz) but you'll now find different manufacturers measure them in different ways such as PMI or PQI so comparing across brands can be tricky.
We think picture quality is hugely important when it comes to buying a new TV.

Technology
TV technology has evolved significantly in the past few years, dramatically improving your viewing experience.
The key things to consider are:
Screen technology – LED or OLED? Both technologies provide bright, vivid colours when watching. OLED, however, is the latest in TV technology and produces deeper blacks and a smoother image, along with reduced motion blur.
Curved screens – Developed to deliver a more immersive viewing experience for everyone watching, regardless of their angle, as well as offering the latest colour and depth enhancing technology.
Other things to consider are the colour and finish of the bezel and the TV's base stand.
LED vs. OLED – which is right for me?
LED stands for Light Emitting Diodes whilst OLED stands for Organic Light Emitting Diodes. Both refer to the way your screen pixels are lit to create the colours and contrast of the images on your screen. OLED is the latest technology. The pixels create their own light source to make up the picture. This means that they can turn themselves off completely in order to show the deepest blacks. LED screens on the other hand have a backlight which is shone through an LCD panel to produce the individual pictures.
OLED TVs
Richer and more vivid colours and contrast
Lower energy consumption than LED
Excellent quality pictures at all viewing angles
Screens are generally thinner
LED TVs
More choice of TVs as LED is easier to produce
Usually cheaper in price
Produces great picture quality
Decided between OLED and LED?
View all OLED TVs
View all LED TVs
Why should I think about a curved screen TV?
Curved screen TVs have a science behind them, not just a pretty design. Modelled to recreate the way our eyes create peripheral vision, curved screens produce a much more immersive and engaging viewing experience as you use them. To make the most of the curved TVs, the best place to sit is directly in front of it so you can get the full impact of the concave display. This gives you a greater field of view and sense of depth and also vastly improves contrast for an exciting and versatile entertainment solution.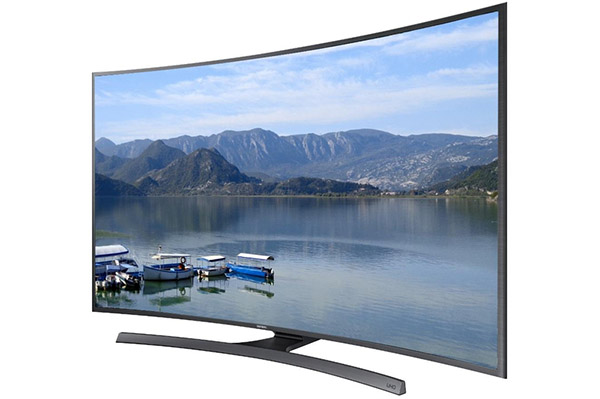 In a nutshell…
Curved screens deliver a more immersive viewing experience
Images have more depth and contrast
The best experience comes from larger screen sizes (46"+)
LED and OLED are both technologies used to light your TV screen pixels, providing rich colours and contrasts. Samsung's QLED is the latest technology
Decided between curved and flat screen? Shop the ranges here:
View all curved TVs
View all flat screen TVs
View TVs our experts love

Smart TV
Smart TVs connect to your home internet connection, allowing you to browse applications and additional content that you may not otherwise have access to. In addition, Smart TVs can often connect to other Smart devices such as phones and tablets, enabling you to easily share content from one device to another.
What is Smart TV and how do I get it?
As well as receiving standard channels, a Smart TV allows you to access online content via the internet using applications (apps) built into the TV. All Smart TVs will have a 'homepage' where you can find all of the options available to you. You can stream your favourite TV shows, movies and more and watch on your TV at a time that suits you. All you need is access to your broadband network either via WiFi or Ethernet cable.
What can I watch on my Smart TV?
You can watch TV programmes from catch up services such as BBC iPlayer and All 4, as well as movie streaming options from services like Netflix and Amazon Prime. Different brands have different apps available on their Smart TVs, so check before you buy.
You can also access social networking sites such as Twitter and Facebook, YouTube for video sharing, plus a whole host of other lifestyle and news apps. Certain TVs also support Skype, which requires a webcam.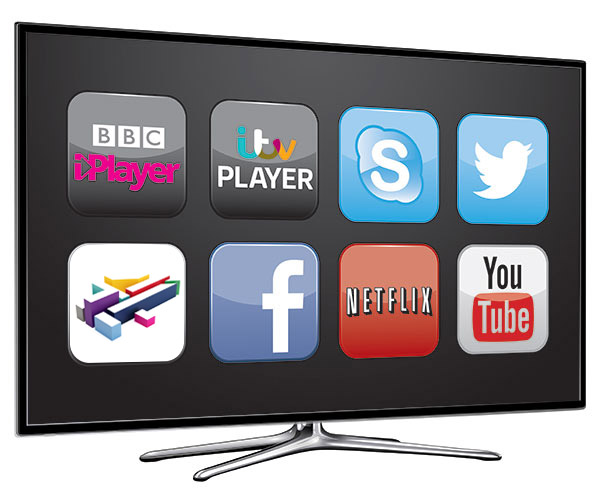 Can I connect my TV to other WiFi enabled devices?
Some Smart TVs enable you to connect via WiFi to your smartphone, laptop or tablet allowing you to share your personal content on the big screen. You can also connect devices such as a Smart keyboard or a Smart remote. In many cases your smartphone can become your remote.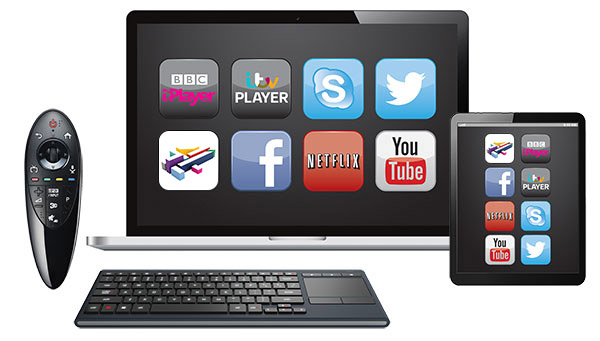 Do I still need a Freeview box/ Sky/ Virgin/ NOW TV?
You can stream programmes and films from the Smart apps on the TV but you will not be able to download additional apps, so if you want to record and store programmes for viewing later you will need a Freeview/Sky/Virgin box. Note Freeview is NOT available in the Republic of Ireland. NOW TV allows you to watch a selection of Sky programmes or purchase a day pass for selected Sky content such as sports. Having a streaming device, such as NOW TV, gives you the full range of streaming apps.
In a nutshell…
Connects to your home internet connection.
Gives you free content options, plus access to movies, catch up services and more.
The apps available varies by the brand you buy.
Can connect to compatible devices in your home to share content easily.
Is a Smart TV what you're looking for?
We love having access to the additional on demand and streaming services that Smart TV gives you which is why all the TVs our experts love are Smart.

Sound
The sound you get from your TV should be great, but the reality is that the demand for better picture quality and thinner screens has overtaken the sound quality your TV can produce on its own. Many manufacturers now recommend partnering your TV with a sound bar, home cinema system or soundstage for the ultimate all round experience.
Do I need a sound system for my TV?
All televisions have their own built-in speakers to deliver sound but the comparison between these built-in speakers and custom-designed surround sound speaker systems can be worlds apart. Deep bass, clear treble and room-filling sound to watch your favourite TV and movies are only truly achievable with the support of additional sound devices such as a sound bar, soundstage or home cinema system.
Sound bar, soundstage or home cinema system?
As the name suggests, a sound bar is a long bar shaped speaker that sits beneath your TV on the stand or can be fixed to the wall. We've got a large range of wireless sound bars, so you can avoid ugly wires trailing from your TV to the sound bar. Many of them can also be connected to a multi-room speaker system which allows you to wirelessly stream music through your sound bar. A wired or wireless subwoofer enhances the bass and delivers depth of sound.
A soundstage system, on the other hand, provides an all-in-one solution and generally includes a built-in subwoofer.
If you want true surround sound, a home cinema system with both front and rear speakers will really put you at the heart of the action on screen, akin to the sound you experience at the movies.
View all Sound bars
View all Soundstages
View Multi-room compatible sound systems
View Home cinema systems
In a nutshell…
Your TV's built-in speakers may not be enough for you if you want really incredible sound.
Sound bars are discrete and pack a good punch when partnered with a subwoofer. They look great sitting in front of or beneath large screen TVs. Curved sound bars are also available to match curved TVs.
Many sound bars are also compatible with multi-room speaker systems. They will work in conjunction with other speakers around your home, allowing you to stream your music throughout your house.
Soundstages are a similar size to a DVD player, and house all the speakers in one system. They look great with smaller screens.
Home cinema systems provide the ultimate experience, with front and rear surround sound speakers.
Interested in boosting your TV's sound?
View all Sound bars
View all Soundstages
View Multi-room compatible sound systems
View Home cinema systems
You might also need
From essential cables to delivery and installation, once you've chosen your new TV, we can help with all the extras.
Jargon buster
Screen size | Measured diagonally across the screen in inches. Our large screen range starts from 32" up to 85".
QLED | Experience the next innovation in TV and see colour in a whole new light. Ground-breaking Quantum Dot technology delivers Certified Ultra HD Premium picture quality and a world's first 100% colour volume*, displaying jaw-dropping colour that's unbelievably true-to-life and flawlessly realistic. From glittering neon lights in a cityscape to the delicate hues of a spring orchard in bloom, QLED allows you to experience your entertainment like never before.

*100% colour volume measured to DCI-P3 Standard
OLED | The latest in TV technology, OLED stands for Organic Light-Emitting Diode. Electricity is passed through these diodes in the screen to produce coloured light. This makes up your picture. Because these diodes produce their own light, each individual one can also be turned off, producing true blacks and smoother images.
LED | LED TVs use an LED backlighting panel to shine light through an LCD (liquid crystal display) screen, producing the colour and images you can see. LED TVs produce bright vivid colours.
Resolution | This indicates screen quality and is measured in pixels per square inch. The higher the number of pixels, the better the picture.
4K | 4K TVs, also referred to as UHD or 4K Ultra HD TVs, have up to four times the number of pixels than a Full HD TV. A screen needs 3,840 x 2,160 pixels to be considered 4K and will have over 8 million pixels.
Full HD | Also referred to as 1080p. Screens classed as Full HD have over 2 million pixels, made up of 1920 x 1080 pixels.
Curved screen | Curved screens are more immersive and are the latest in screen technology, putting you at the centre of the action.
Tuner type | This refers to the built-in digital service the TV receives and allows you to watch free TV channels without the need for a separate box or subscription, such as Freeview, Freeview HD and Freesat HD (satellite). Freeview is NOT available in the Republic of Ireland. Double tuners will provide both.
Smart TV | This feature allows you to access digital content such as catch up TV and streaming services from the internet via apps.
Processing rates | This refers to the rate at which the picture refreshes. Higher processing rates make the picture smoother and less blurry, perfect for fast paced sports and action films. Rates range from 60 Hz upwards.