Home
›
tumble dryer repairs
Customer Services
Tumble Dryers
To book a repair, please call into your nearest Currys store.
If you have Whatever Happens or your product is still in warranty call 0844 561 1234
If you have a Repair and Support Plan or your product is still in warranty call 

1890 818 575
Tumble Dryer Repairs & Condenser Repairs
Our dedicated repair service is designed to get your appliance back up and running in no time.
When your tumble dryer stops working like it should, we want you to sit back and relax knowing experts from Currys are on hand to fix the problem.
There are no hidden costs – we only ask for a one off fee which includes the visit to your home, labour charges and any parts we need to replace. If for some reason we cannot repair the problem, or we find that your tumble dryer or condenser is beyond economical repair*, we will give you a full refund.
Our fully trained repair experts are available to fix your appliance 6 days a week around most of Ireland.  On the day they are due to visit, they will ring 30 minutes in advance so you know when to expect them.
All our repairs come with a 12 month guarantee but for added protection we also offer an Expert Repair which also covers your dryer for 12 months, but against other faults including general breakdown.
Tumble Dryer Repairs & Condenser Repairs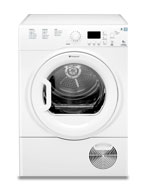 One-off Repair
€109
12 month guarantee
Covers you for the fault we repair

For an extra £10
Repair & Protect
€119
12 month service agreement
Covers you for the fault we repair and protects you against general breakdown
Available 6 days a week, across most of Ireland
 
Nationwide coverage
Fixed price repair including parts
No fix, no fee