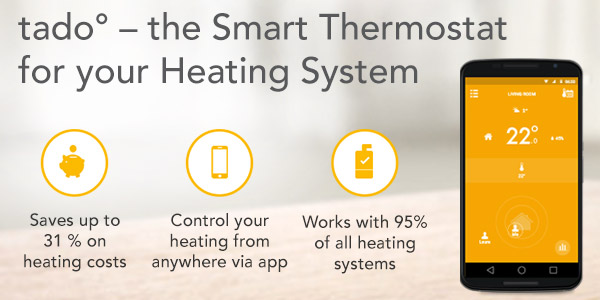 Control your heating system with the tado° Smart Thermostat
Heating accounts for 60% of the average household energy bill. As such, old thermostat technology can be an issue. tado° offer new smart technology to replace this which can help you reduce your annual heating costs by up to 31%.
The tado° Smart Thermostat connects to your smartphone and uses its location to automatically reduce the temperature when you leave home. tado° will also raise the temperature before you arrive home, so you always walk into a warm home without needing to leave the heating on all day, saving valuable energy and heating costs.
Compatible with 95% of all heating systems, tado° works with gas and oil boilers, heat pumps and electrical systems amongst others. Radiators and underfloor heating are also supported.
View the Tado range
How tado° works

tado° heats your home more efficiently by analysing the building

tado° adapts to the weather forecast and heats less on warm days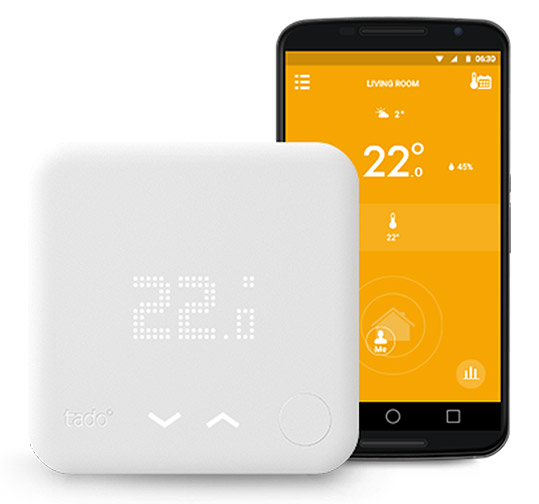 Tado° controls the heating when you are returning home and when you leave using the app

Full access from your phone, tablet or computer
The Smart Thermostat
The Smart Thermostat displays the current temperature, as well as allowing you to set or alter the target temperature. As such, it acts as the main control for the heating in your home.
Internet connection: wirelessly connects to the cloud via your router
Auto updates: automatically updates, providing the latest features and software
Temperature sensor: accurate readings at all times from a temperature sensor
Security: all communication between the devices is secure
The mobile App
View reports on your heating, including when the heating was switched on and what triggered it - it's all at your fingertips using the app. You can also review how much you spent on heating to help you review your activity.

Useful reports and heating activity at a glance.

Control from anywhere using smart devices.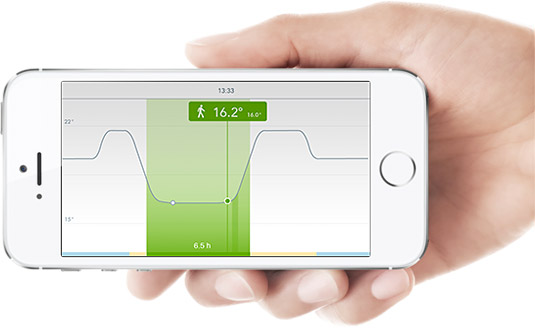 Extension Kit
You can install tado° wirelessly or for boilers without a room thermostat using the Extension Kit. Simply connect it directly to your heating system to take control.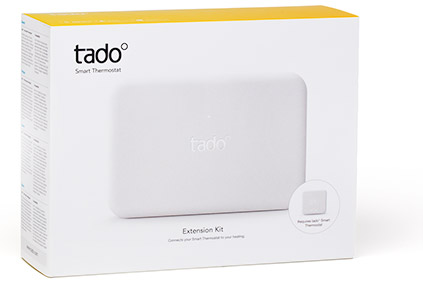 Works with almost all heating systems
The tado° Smart Thermostat works with almost all systems and major manufacturers, including combi, system and heat-only boilers, conventional and condensing boilers, hydronic and electric underfloor systems and heat pumps.
Requirements
Smartphone
Internet
Central heating system