With the latest technology you can easily make your home smarter
Smart home devices connect to your home WiFi and are controlled via an app on your smartphone, tablet, or PC. Some connected home devices also work with voice control assistants such as Google Assistant, Alexa, or Siri so you don't even need to pick up your smartphone.
Smart devices are all about simplicity and function – we understand your first venture into smart home may seem daunting or confusing, so we've put together this guide on how this technology can work for you.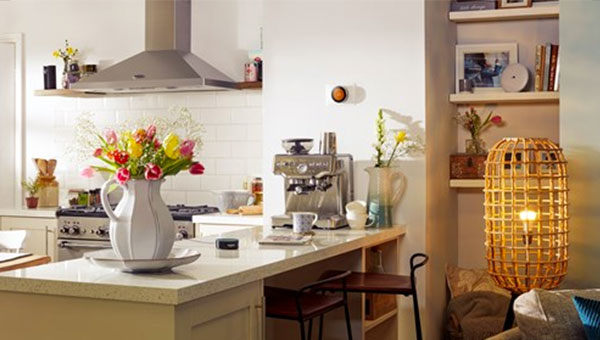 Contents
Smart home
More and more of the devices we use to control our home are becoming 'smart'. This means that they're connected to your Wi-Fi, connected to each other and, most importantly, connected to your routine.
Smart homes are designed to make your home life easier and your house as efficient as it can be. They let you control your heating, lighting, home security and more from your mobile device, wherever you may be.
Many people waste power by leaving their devices plugged in when they leave the house. With a smart home, however, you can programme your devices to turn on and off at specific times, or just whenever you need to – keeping your energy usage (and energy bills) low.
Smart lighting
Smart lighting lets you adjust the brightness and colour of your lighting to suit your mood or environment – dim the lights for a movie night, wake up to refreshing bright light, or create a party atmosphere - all from your smartphone or smart speaker.
Adding elegance, ambiance, and convenience, smart lights also offer home security and better energy efficiency.
Smart thermostats
Smart thermostats let you remotely monitor and set your home temperature and central heating schedule via your smartphone or tablet. They provide you with a more efficient heating system, with easily accessible controls and a user-friendly interface.
They should not be confused with smart meters, which digitally send your meter readings directly to your energy supplier for more accurate bills but cannot control your central heating.
Smart home monitoring
We know it's important to keep your family and home safe at all times – smart home monitoring devices let you keep an eye on your home even when you're away. You can check cameras remotely, switch off plug sockets, get alerts for alarms being triggered, and even see who's at the door.
Lots of smart home monitoring products work together with other smart devices – for example a motion sensor can trigger a smart plug to switch on. A smart home starter kit is a great way to discover how compatible products can work in your home and includes everything you need to setup your smart home.
Smart home voice control
Control your smart home products using only your voice with a hands-free smart speaker like Google Home. They allow you to use smart products with a single voice command and provide helpful assistant features. Ask what the weather's like, check your diary, set a timer, and even play fun family games.
Each smart voice control speaker has a "wake word" so that when you speak to the device it will listen and respond to your request. Google Home, for example, responds to "Ok Google" or "Hey Google".
Jargon buster