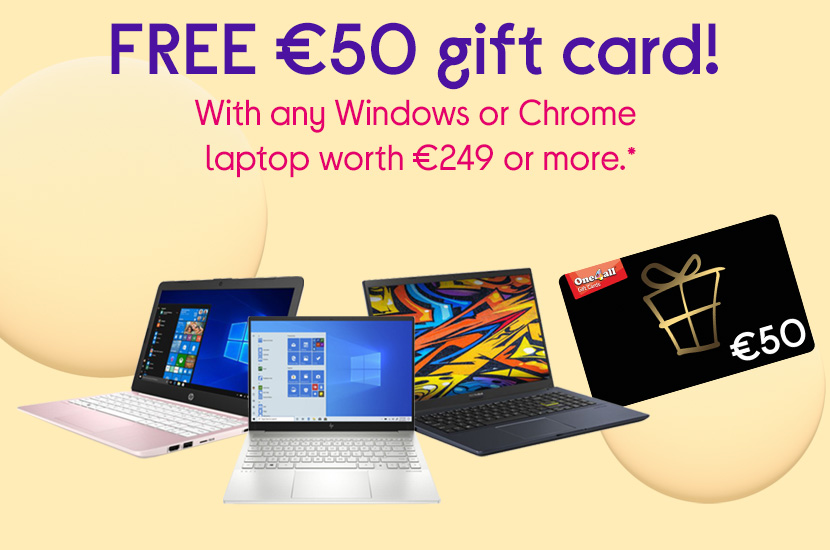 Buy a laptop worth €249 or over and we'll treat you to a FREE €50 One4all gift card!
Promotion opens on 12th of September 2021. Remember, you can only redeem 32-46 days after your purchase date.
How to redeem

Purchase an eligible laptop inside the promotion period (11th August 2021 and 21st September 2021 inclusive).
Shop Laptops

Come back here 32-46 days after your purchase date to redeem.

Enter your details and the receipt/order number found on your receipt.
Enter your details below
If you purchased a qualifying laptop in the promotional period, and it's now between 32 and 46 days after your purchase, you can submit your details below and we'll send out your gift card. Details submitted must match those on file for your order. You'll need your receipt or order confirmation e-mail for some of the details required.
*Terms and conditions:
Get a One4all gift card worth €50 when you purchase a qualifying product from a Currys PC World Store or www.currys.ie, between 11th August and 21st September 2021 inclusive. Your entry will only be counted if your submission is within the 14 day window period (ie between 32 days and 46 days following your purchase). Offer applies to Windows Laptops and Chromebooks purchased at €249 or over. Maximum 1 entry per purchase. Restrictions and other terms and conditions apply. This promotion is open to all Republic Of Ireland residents aged 18 years or over.
Full terms and conditions can be found here.
(PDF)