Microwave Buying Guide
There are a number of things to consider when choosing the perfect microwave for you.
From cooking vegetables and rice to defrosting meat, fish and poultry, microwaves are one of the most versatile kitchen appliances you can own. This guide will help you find the most useful features for you, and decide which features you don't need to help you save money.
Look out for the 'Our Experts Love' range to find microwaves with the most advanced features plus a variety of accessories – from rice steamers to soup makers.
And of course, if you want to see what's on offer for yourself, come down to one of our stores and we'll be happy to help find the right appliances for you.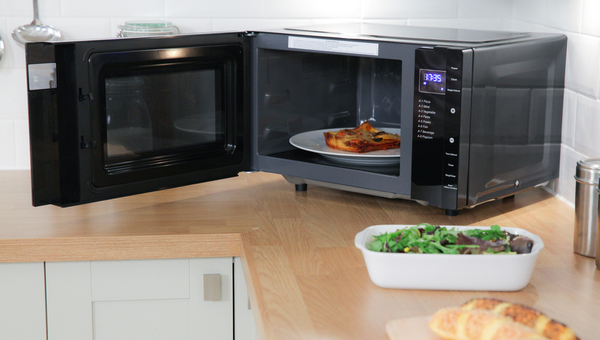 Microwave Only (Solo)
Sometimes known as solo microwaves, these are great for completing simple tasks such as defrosting, heating and reheating, but can also be used for other simple cooking tasks such as baking cakes.
Can I grill in my solo microwave?
Solo microwaves are for simple tasks such as heating and defrosting. We have a wide range of microwaves that come with a grill, ideal for browning and crisping.

Microwave with Grill
Grill microwaves combine normal microwave cooking with a heating element, making it easy to grill fish or meat or simply for browning your food.

Combination Microwave Oven
These offer more cooking flexibility than solo and grill models. This is because combination microwaves use microwave energy, a grill and convection heating (fanned hot air) so they can heat, roast, crisp and brown in the same way as a conventional oven, all in a fraction of the time.
What sort of foods can I cook in my combination microwave oven?
Combination microwaves cook a wide range of foods in much less time than a normal oven - this could even include a full roast dinner. For example, a roast chicken can take just 32 minutes instead of the 1 hour 20 mins required in a normal oven.
What is inverter technology?
Inverter technology allows the microwave to cook at different powers to suit the food you're cooking, which means you get better results with an even temperature and texture.
What is the best type of microwave to cook for a large family?
A large capacity microwave will give you the most space to cook large dishes. Combination microwaves can grill and bake as well heat and defrost, so they're great for cooking a variety of dishes.
Are microwaves easy to clean?
Microwaves come with a number of different interiors ranging from ceramic enamel to stainless steel to help make cleaning easier and helping to reduce odours inside the microwave.
What is intelligent sensor technology?
Intelligent sensor technology allows you to simply select the type of food you want to cook, rather than inputting a time, power or weight - the sensor analyses the humidity inside the oven, letting you know the exact moment your food is ready to eat.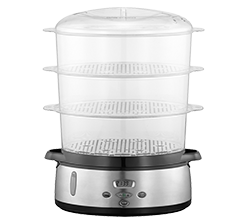 Accessories to make the most of your microwave cooking
From rice steamers to soup mugs, we have a wide range of accessories to compliment your cooking.
Jargon buster
Freestanding Microwaves | Designed to sit on top of your worktop.
Built In Microwaves | Designed to be fitted into your kitchen units. We can deliver and install your microwave as well as recycle your old one.
Capacity | Varies from 17 to 44 litres. A larger capacity will have a larger turntable and more interior height, allowing you to cook larger dishes or more than one dish at once.
Power | Measured in watts, microwave power varies from 800 to 1200W. The higher a microwave wattage, the faster its contents will be cooked.
Interior | Some microwaves are made with different interiors from ceramic enamel to stainless steel which all help to make it easy to clean between uses.
Auto Cook/Auto Defrost | Some microwaves also include functions that allow you to enter the weight and type of food before calculating the optimum settings in order to give the best results.
Programs | Some microwaves have pre- set programs that vary by model, offering options to automatically reheat, defrost or cook popular meals to perfection.
Flatbed | Flatbed microwaves do not have a cooking turntable, offering a great cooking capacity which guarantees uniform and even cooking.