There are a number of things to consider when choosing the perfect microwave for you.
From cooking vegetables and rice to defrosting meat, fish and poultry, microwaves are one of the most versatile kitchen appliances you can own. This guide will help you find the most useful features for you, and decide which features you don't need to help you save money.
Look out for the 'Our Experts Love' range to find microwaves with the most advanced features plus a variety of accessories – from rice steamers to soup makers
And of course, if you want to see what's on offer for yourself, come down to one of our stores and we'll be happy to help find the right appliances for you.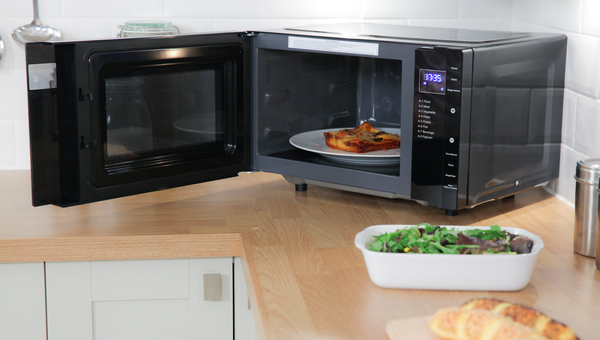 Contents
Microwave only (solo)
Sometimes known as solo microwaves, these are great for completing simple tasks such as defrosting, heating and reheating, but can also be used for other simple cooking tasks such as baking cakes.
Microwave with grill
Grill microwaves combine normal microwave cooking with a heating element, making it easy to grill fish or meat or simply for browning your food.
Combination microwave oven
These offer more cooking flexibility than solo and grill models. This is because combination microwaves use microwave energy, a grill and convection heating (fanned hot air) so they can heat, roast, crisp and brown in the same way as a conventional oven, all in a fraction of the time.
Accessories
From rice steamers to soup mugs, we have a wide range of accessories to compliment your cooking.
Jargon buster