Level up your gaming with the perfect accessories for your PC or games console. Whether you want to enhance the audio on your favourite horror game, upgrade your keyboard for more tactile feedback, or make sure your go-to moves are at the press of a button on your mouse, we've got everything you need.
Our guide breaks down the different types of each gaming accessory, so you can easily decide which gaming headset, keyboard or mouse is right for you. Unsure about certain features or specific gaming terminology? We've got you covered on that too.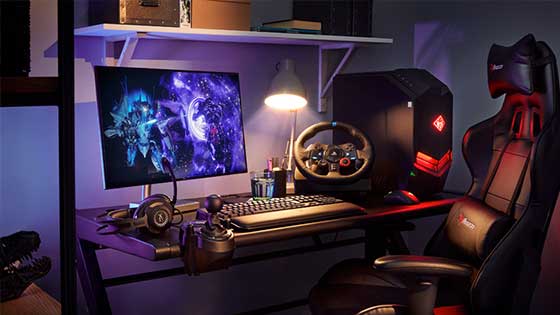 Contents
Gaming headsets
Gaming headsets are essential for really getting involved in a game. The right headset will surround you with quality audio, so that the next time someone tries to sneak up on you you'll know straight away. And if you play VR games, a quality gaming headset can transform how realistic everything seems.
Gaming keyboards
A good keyboard is an essential piece of PC gaming equipment. Sometimes it's easy to overlook how important your gaming keyboard is – but just think about how often you use it. Everything from how responsive the keys are, to how loud and "clicky" they are, all matters. And if you're not fussed about the details – just keep an eye out for RGB lighting. Sometimes a win is enough, but sometimes you want your keyboard to glow in rainbow colours while you're on the winner's podium.
Gaming mice
Choosing the right gaming mouse is important for comfort and can give you an extra edge in-game. Whether you want buttons to quickly jump to certain tasks, or just want to synchronise your lighting with your gaming PC or keyboard, we're here to help you get the right mouse for you.
Racing wheels and pedals
Control your favourite racing game as if you're sat in the driver's seat with gaming racing wheels and pedals. Providing greater control over your car, there's a huge variety of elements that you can get to build your perfect driving set up.
Look out for key features like force feedback for a realistic experience, gear shifters that give you accurate control, and even gaming chairs that are designed to feel like a real racing car seat.