SMART SOUND MULTI-ROOM SPEAKERS
SOUNDTOUCH® 10
WIRELESS SPEAKER

For clear, room-filling sound, this compact system fits almost anywhere in your home. Stream music from the internet, or any smartphone, tablet, or computer via WiFi or Bluetooth. A free app transforms your smartphone into a remote, letting you control your music. Select from six personalized presets for your favourite music sources.
Available in:
SOUNDTOUCH® 20
WIRELESS SPEAKER

Enjoy clear, room-filling sound from a compact system that fits virtually anywhere. The SoundTouch 20 connects with your devices using WiFi or Bluetooth, and lets you stream music from your smartphone or tablet, and control it from your smartphone using a free app.
Available in:
Every room
The SoundTouch family of speakers lets you play your music wirelessly around your entire home. One-piece space-saving systems deliver powerful sound without taking up much space in your home, while outdoor and home cinema systems deliver room-filling sound full of detail and clarity. Start with one speaker and add more whenever you want to upgrade your home cinema, or to add more speakers to other rooms in your home.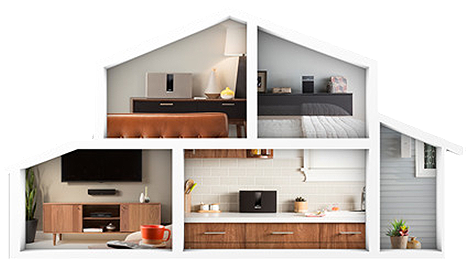 All your music
There's a whole world of music out there. And SoundTouch® is the easiest way to play it throughout your home—wirelessly. All those music streaming services. Thousands of internet radio stations from around the world. All your MP3 music libraries. All instantly accessible.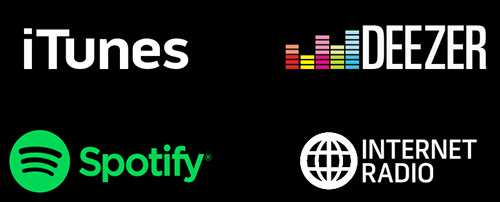 Bluetooth® included
Every SoundTouch system is Bluetooth compatible so you can wirelessly stream music to it from any smartphone, tablet, or other Bluetooth devices.
Easy setup
Setup is quick and simple. Just use the SoundTouch app on your smartphone to pair it with a Bose wireless device. You'll be listening in minutes. The app is compatible with most iOS, Windows, Mac and Android systems, including Amazon Kindle Fire tablets (running 4.0.3 or later) and Fire Phone.
Powerful control
Tap and swipe between your favourite music tracks using the SoundTouch app. The free app turns your smartphone into a remote that lets you control your music in each room and connect to your favourite music streaming apps.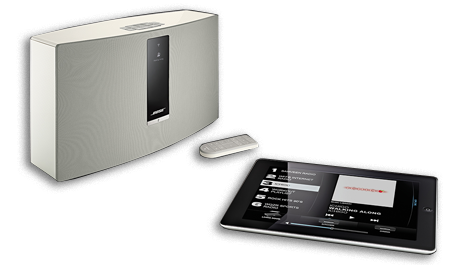 Find music
The SoundTouch® app makes it easy to access the music you love or find new songs. Use the app to access internet music services like Spotify® and Deezer. Choose from thousands of Internet radio stations. Or easily search your entire personal music library on your computer or NAS drive.