Find your ideal audio device. Choose anything from headphones for private listening to portable speakers for social settings.
Or fill your home with music using more traditional Hi-Fi systems and radios.
Whether you're relaxing at home or working out, you can find the perfect product to suit every situation.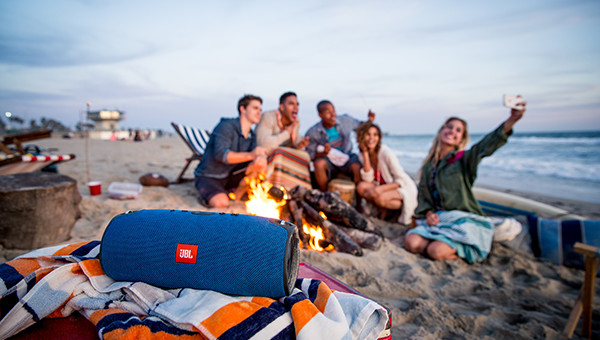 Contents
Bluetooth speakers
Don't fuss with cables – Bluetooth speakers let you wirelessly stream your favourite playlists and tracks. All you need is a compatible device like your smartphone or tablet to easily play a song, switch between tracks and stop the music without having to touch the speaker. Bluetooth speakers are great for sharing music - your friends and family can stream their music too.
Smart sound speakers
With a wireless smart speaker system, your favourite songs, podcasts and radio stations can literally follow you around the house.
Using your WiFi network or Bluetooth, smart speakers can receive audio from your smartphone, tablet, computer or home theatre system. You can control everything using a free-to-download app.
Using Smart sound speakers you can play the same song in every room or a different song in each space. And because you can connect to digital music libraries, compatible CD players, radios and even turntables, there's no limit to what you can listen to. If you have a smart sound bar, subwoofer and rear speakers you can also create a virtual surround sound experience. Start with one speaker and grow your system as you like.
Party audio
Enhance your night with friends using Party Audio, a variety of unique features designed to make any gathering feel like a party. From DJ and Karaoke functions to flashing lights, Party audio lets you customize the sound of your tracks, control your music with an app or stream songs via Bluetooth.
Traditional Hi-Fis
For powerful sound in a classic format, Hi-Fi systems feature large speakers and additional features like CD players, radio stations, Bluetooth streaming and more. If you pick a Hi-Fi system with an app you can even pair your smartphone for easy music streaming. Some models can be wall mounted to make the most of your space.
Radios
No matter what you like to listen to, radios offer the ability to listen to all your favourite stations and programs. Choose between classic and vintage inspired styles, FM and DAB options or portable models with built-in batteries to suit any home or occasion.
Turntables
Turntables (or record players) are back, so you can enjoy the distinctive sound of your vinyl records in their original format. Some models let you convert vinyl into a digital format, so that you can listen to your favourite tracks wherever you are.
Choose between standalone record players that can be connected to an amp and speakers, or pick a travel turntable with built-in speakers for sharing with friends.
Headphones
Enjoy your favourite music in style with our wide range of headphones. If your focus is comfort and quality, on ear and over ear styles deliver great sound. In-ear headphones are incredibly lightweight and fit easily in your pocket – ideal for your everyday commute.
Want to block out distractions? Noise-cancelling headphones let you tune out the world around you so you can focus completely on your music. And if you need music to work out, sports headphones offer sweat protection and designs that won't restrict your movement.