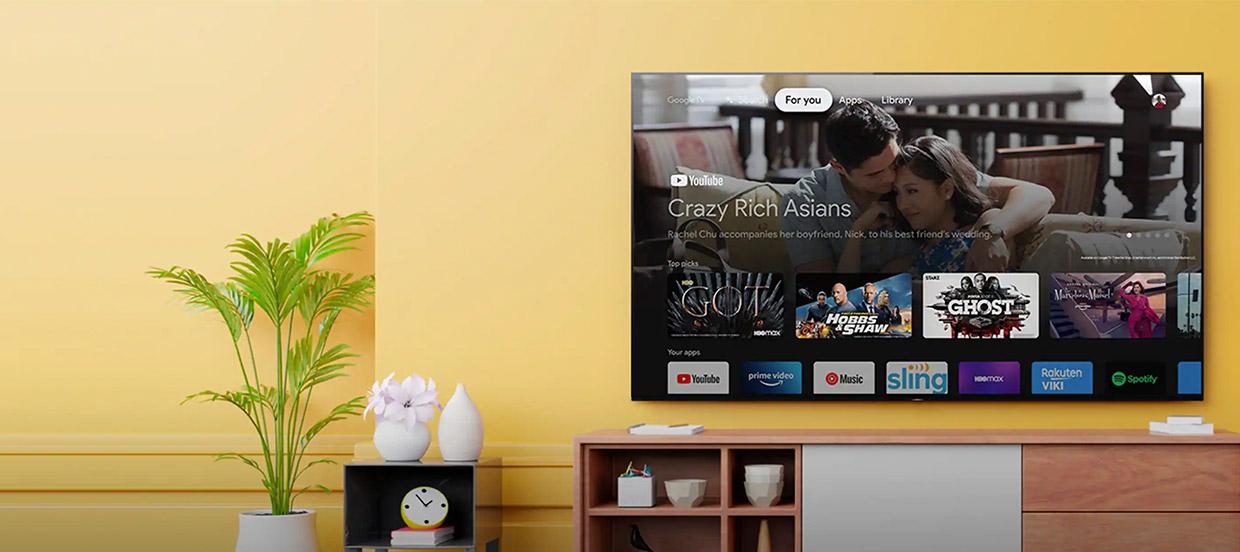 The entertainment you love with help from Google TV
See 700,000+ movies and TV episodes all in one place. Google TV brings your favourite content from across your apps and subscriptions including Netflix, Prime Video, Disney+ and NOW TV and organises them just for you. Searching is easy - just ask Google. Just say "Ok Google, find action movies" or "Ok Google, show me sci-fi adventure TV shows" to search across your favourite apps.



Over 5000 apps, more than any other smart TV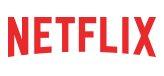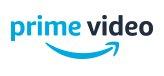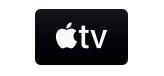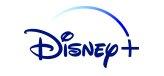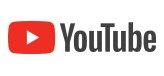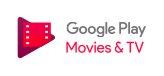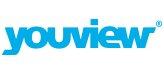 Find more at the Google Play store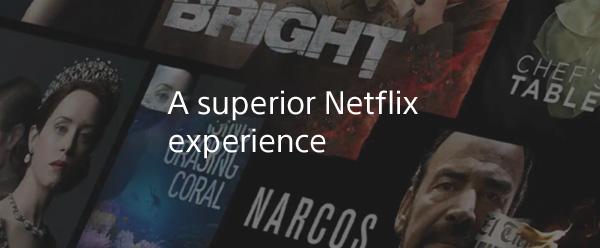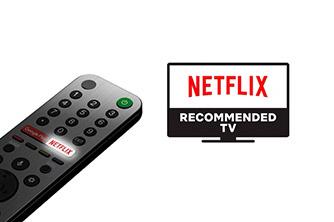 Our smart TVs are recommended by Netflix
Netflix have created an easy way for you to identify TVs with better performance, easier app access and new features that make for a better smart TV. Netflix recommended TVs help you enjoy popular shows and movies with a dedicated button and voice control.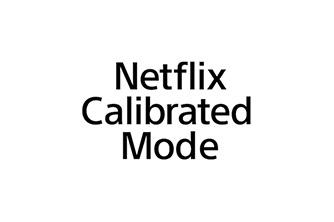 Enjoy studio quality with
Netflix Calibrated Mode
This mode was specially developed to enjoy Netflix originals and reproduce the same picture quality on a TV as on a studio evaluation master. With Netflix Calibrated Mode, the creator's vision and intent are faithfully preserved.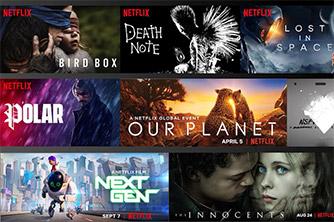 Get the full Dolby experience
Selected smart TVs are compatible with Dolby Vision® and Dolby Atmos®, giving you a truly immersive viewing experience and sound from all around.

Hands-free entertainment with help from Google TV
With hands-free help from Google, you can set aside your remote and just use your voice to control your TV. Ask Google to find a specific title, search by genre, and get personalised recommendations on what to watch by saying, "Ok Google, what should I watch?". Even get answers on screen, control smart home devices, and more.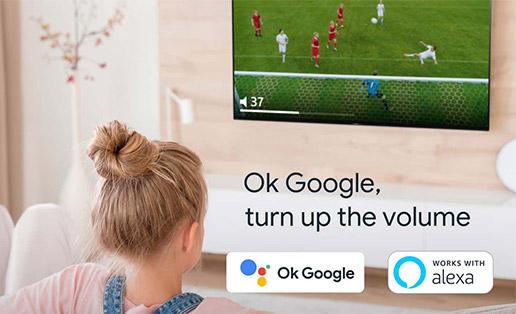 Watch what you love, control it with your voice
Search for shows, get recommendations, even control your TV – faster – with your voice. Ask Google or Amazon Echo for hands-free help on your big screen.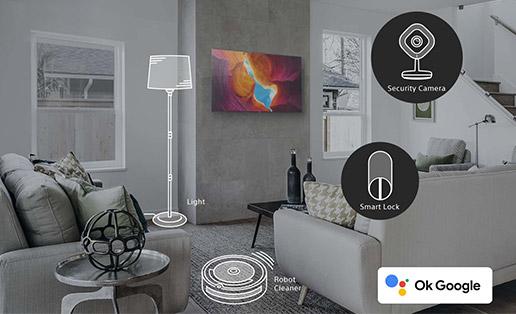 Control all your devices with one smart remote
All your smart devices can be controlled with our smart remote. One-button access to video on-demand services brings TV shows and movies into your room in seconds.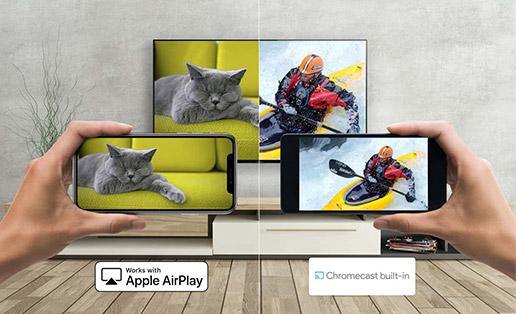 Supersize your smartphone favourites
Quickly and easily enjoy your favourite videos, photos, games and more from your iOS or Android devices on the big screen.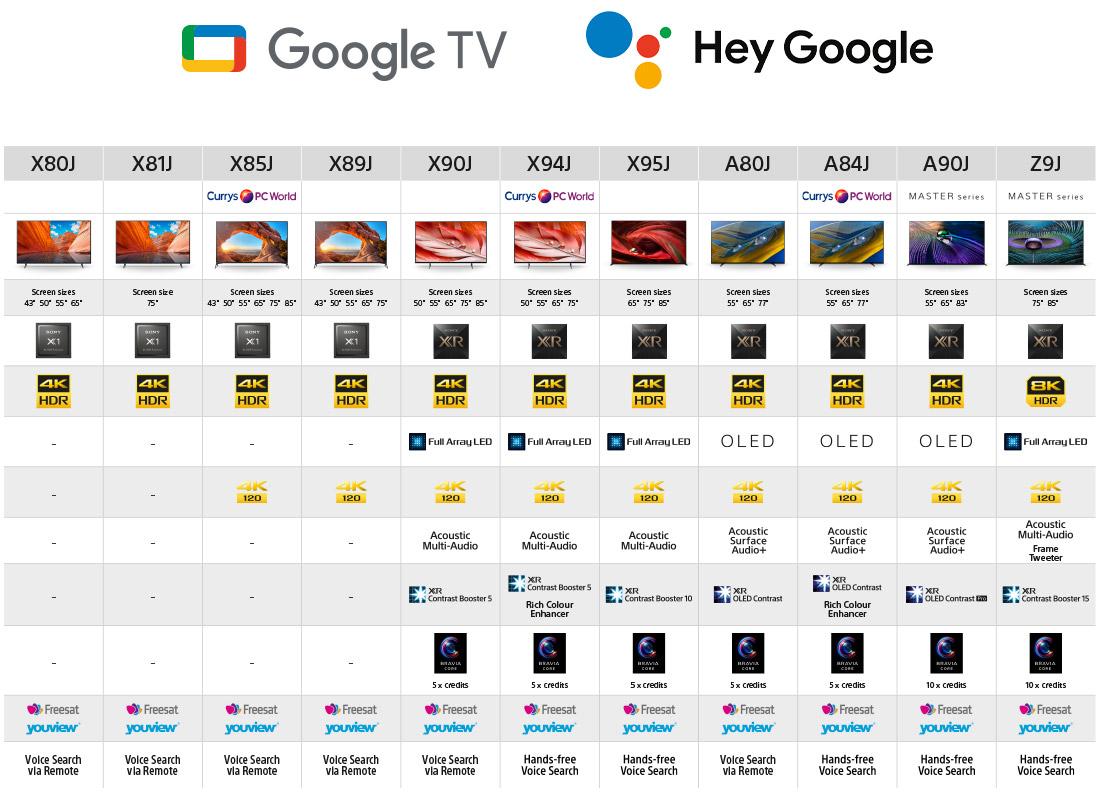 Google TV:
Service and feature availability varies by country. Some apps, contents and⁄or features may not be available in all countries. Subject to availability.
Google TV and related logos are trademarks of Google LLC.
Freeview and some apps & services are only available in the UK. Apps & services may be removed or no longer supported by third party content providers at any time. Some apps & services may not be available at launch and may require a firmware update before becoming available.
- BBC iPlayer, ITV Hub, All 4 & My5 are expected to be available during 2021
World's First Cognitive Intelligence TV:
Including a processor that cross-analyses multiple picture elements combined with focal points; recreating human perspective. As of the 18th November 2020 no other brand has specifically claimed such cognitive intelligence for their TV processor. Verified by Strategy Analytics, November 2020.
BRAVIA CORE:
2012: © 2009 Columbia Pictures Industries, Inc. All Rights Reserved. Zombieland: © 2009 Columbia Pictures Industries, Inc. and Beverly Blvd LLC. All Rights Reserved. The Da Vinci Code: © 2006 Columbia Pictures Industries, Inc. All Rights Reserved. Ghostbusters II : © 1989 Columbia Pictures Industries, Inc. All Rights Reserved. The Patriot: © 2000 Global Entertainment Productions GmbH & Co. Movie KG. All Rights Reserved.
Time period that streaming is available for depends on model.
Pure Stream:
Based on research from December 2020