THE PINNACLE OF TV EXPERIENCE
Infinite Contrast
OLED contrast is infinitely better.
The same content can look different depending on which display technology a TV has. LG OLED TVs have self-lit pixels that individually turn on and off to achieve infinite contrast and consequently perfect black levels.
LED and Mini LED TVs use backlights that are not self-emissive. This means they can't create perfect black and can also suffer from the halo effect. Self-lit pixels don't have this proble — there's no light bleed and no halo, so you get absolute perfect black and the ultimate picture quality.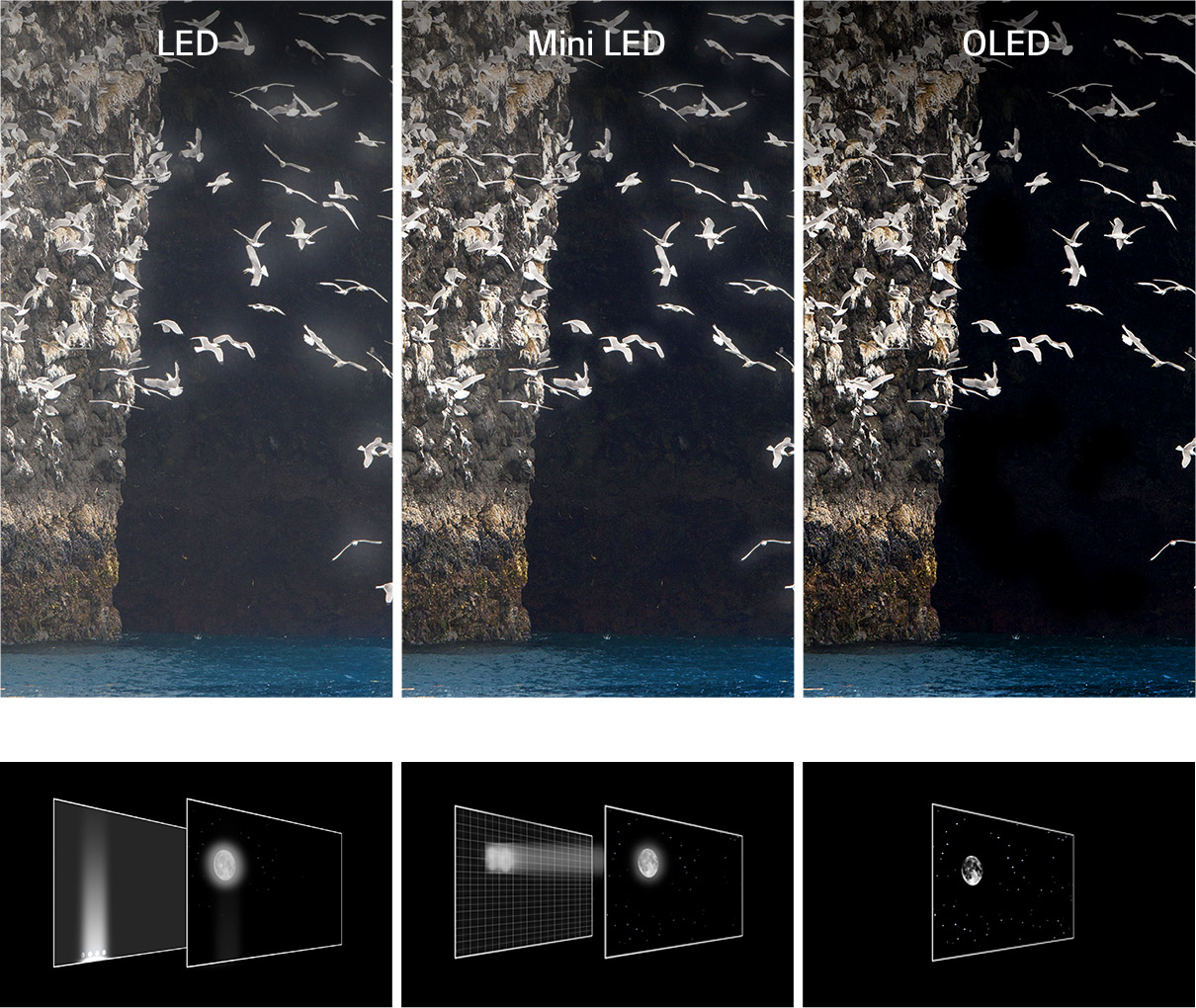 *Screen images simulated.
Self-lit Pixels
OLED makes more possible.
Self-lit pixel technology allows LG OLED TVs to be ultra-slim with perfect picture quality. By contrast, LED and Mini LED TVs use backlights combined with numerous other display layers, which affect both screen thickness and picture quality. Backlights also create the halo effect and prevent TVs from achieving perfect black. It doesn't matter how many backlights are used or how small they are, LED still can't compete with OLED. Self-lit pixels can show the tiniest star in the darkest sky with absolute precision and clarity.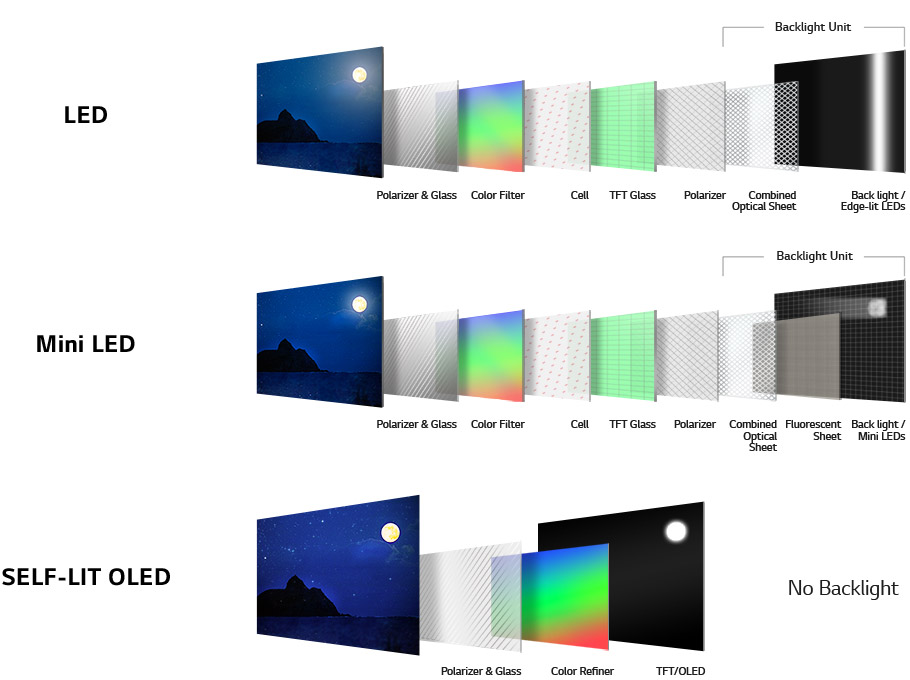 100% Colour Fidelity
OLED colour is truly original.
LG OLED TVs not only express perfect black, but also original colour. Intertek, a global testing agency based in the UK, has certified that LG OLED displays have 100% colour fidelity. This means on-screen colours closely match those of the original image. LED TVs simply can't match this standard of colour reproduction.
*Screen images simulated.
Colour Fidelity tests determine the difference between the colour of an original image and the colour expressed by a display. Sample colours were extracted and used in the test.
The results verified that 100% of the sample colours shown on LG OLED displays closely matched the original colours. Whereas only 70 to 80% of the sample colours shown on LED displays closely matched the original colours.
*Colour fidelity determines whether a display's colour accuracy is Delta E≤2 across 125 colour samples.
*The test results are for the TV panel.
*83-inch LG OLED panel will be certified in the first half of 2021.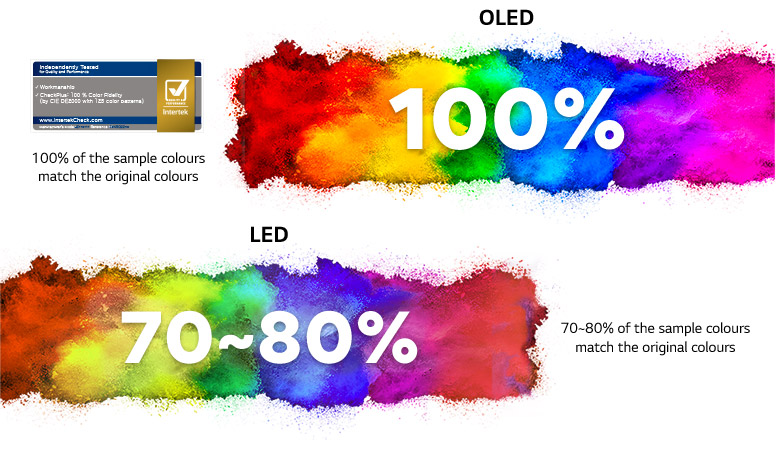 OLED evo
True brilliance in clarity of content.
LG OLED technology has evolved. The new panel has been redesigned with an added layer made of a stronger emissive material that refines the wavelengths of light. This increases efficiency and improves brightness with the same amount of light input. The materials used for OLED lighting have also been changed to enhance and strengthen light intensity. The result of all this is a brighter, sharper image, and ultimately a better viewing experience.
*Screen images simulated.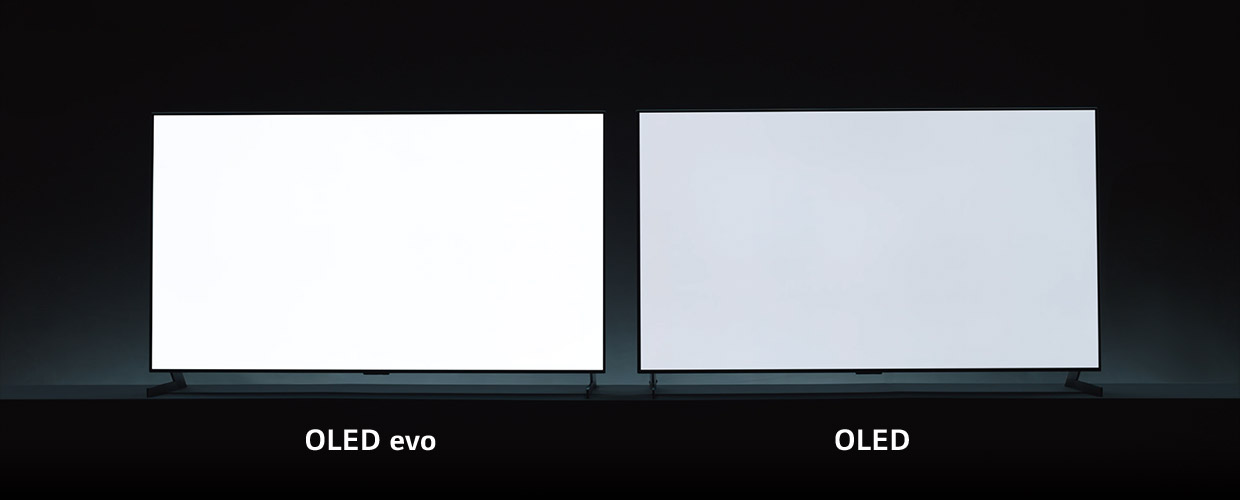 *New features are only available with certain models.
*Both TVs were tested under the same conditions.
*It may look different depending on the picture quality mode.
OLED 8K
Dive into a new world
There is a clear difference between 8K and 4K resolution — OLED 8K is four times the resolution of 4K. But there's also a clear difference between OLED 8K and LED 8K. LG OLED TVs have self-lit pixels that can be controlled individually to display unmatched levels of depth and detail. They also have the α9 Gen4 Processor 8K, the brain of the TV, that upscales 4K to 8K. And with LG OLED TV Z1, you can experience 8K on breathtakingly large 77-inch and 88-inch screens.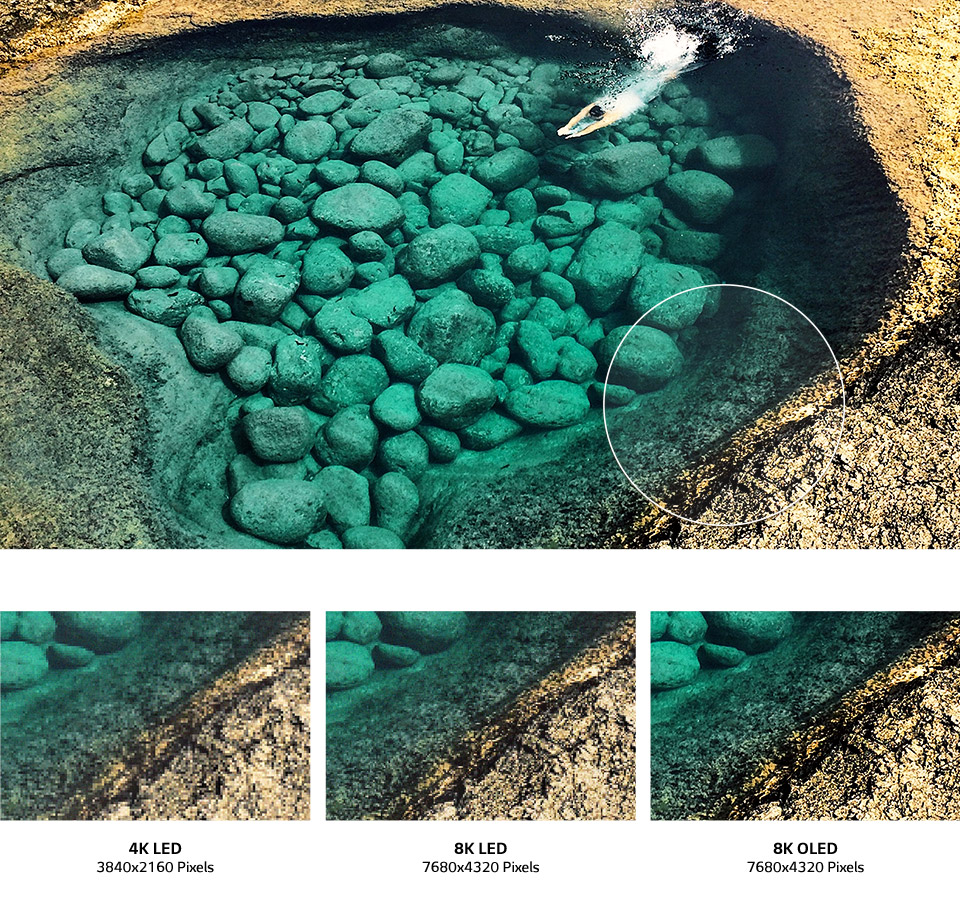 *Screen images simulated.