---
WIRELESS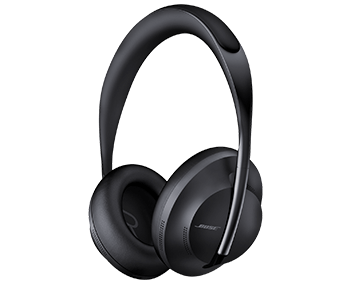 SPORTS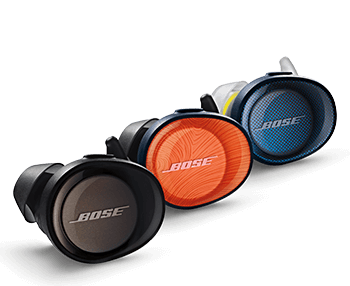 WIRED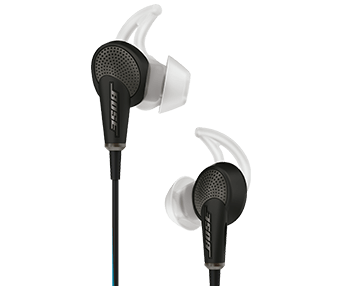 Bose Headphones 700
WIRELESS HEADPHONES
Impressive noise-cancellation.
Great sounding music with less background noise.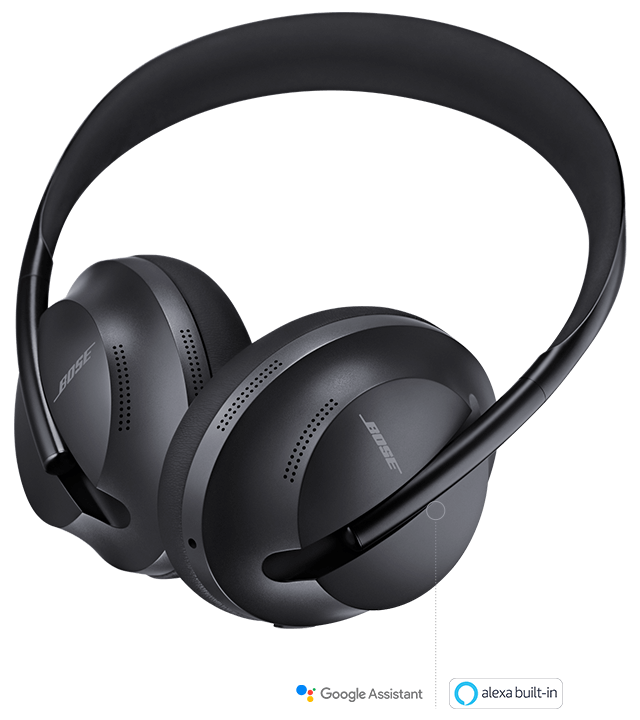 Bose Headphones 700
WIRELESS HEADPHONES

Keep your phone in your pocket and your head up to the world with easy access to voice control services for music, navigation, weather and more.
Confidently take a call or speak to your voice assistant in any environment, with an unrivalled adaptive four-microphone system that isolates your voice from surrounding noise.
Personalise your environment with 11 levels of noise cancellation-control distractions or let ambient sound in.
Enhance the way you experience the world with Bose AR, a first-of-its-kind, audio-augmented reality platform.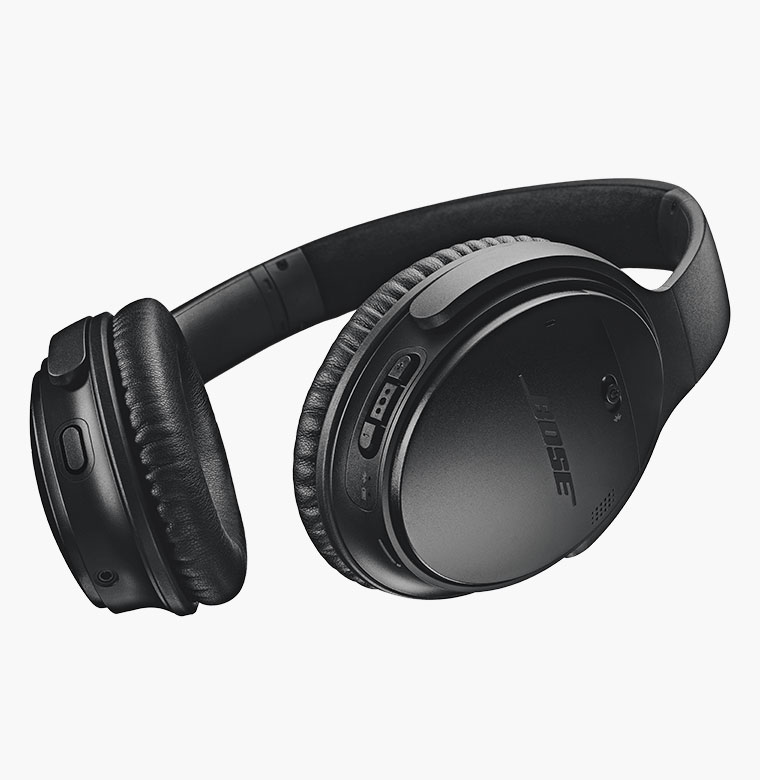 QuietComfort 35
WIRELESS HEADPHONES II

Impressive noise cancellation cuts out the background noise so you can focus on your music.
Bluetooth®, NFC and voice prompts make it easy to connect your headphones wirelessly.
Three noise-cancellation settings - adjust the level with the action button.
Volume-optimized EQ lets you balance the audio so everything sounds great.

Bose Frames

Sunglasses enhanced with Bose sound.
Stay connected to the world around you while listening to your music.
Make and take clear phone calls and access Siri and your Google Assistant.
Stay connected and wireless with Bluetooth® connectivity.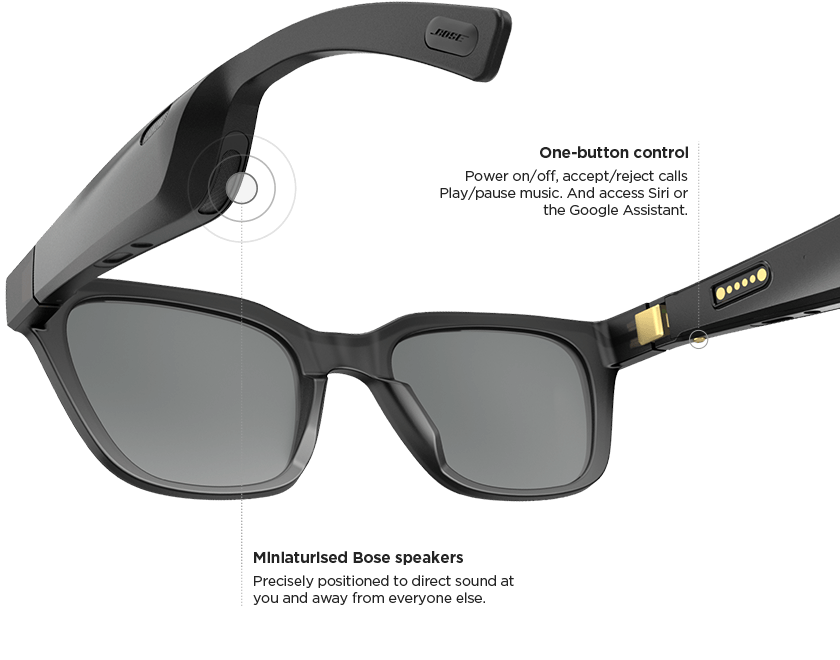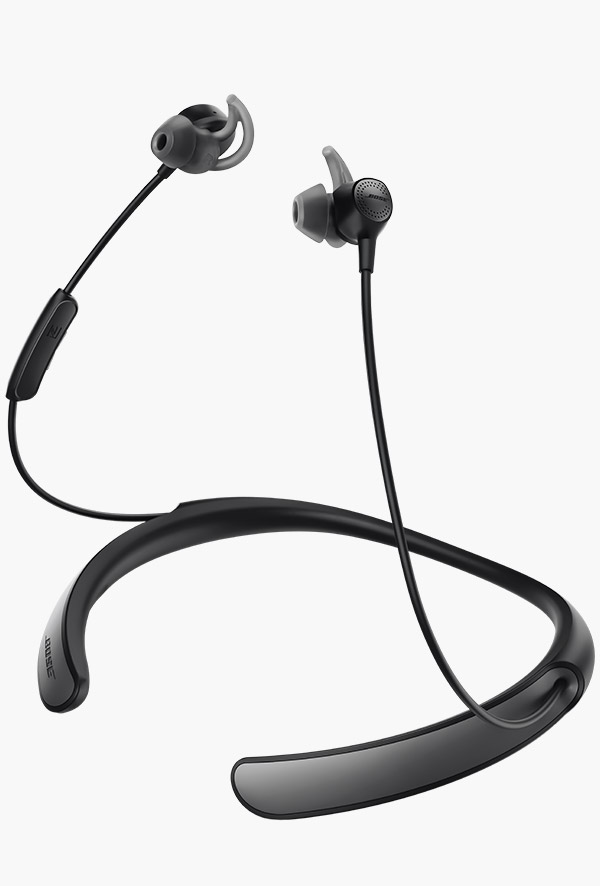 QuietControl 30
WIRELESS HEADPHONES

Reduce background sound with noise-cancellation.
Pair devices wirelessly with Bluetooth and NFC connectivity.
Volume-optimized EQ lets you balance the audio.
Lightweight neckband makes it comfortable to wear all day.
Action button
Three settings let you control the level of noise-cancellation.

Noise cancellation
Pick out quiet sounds and keep music sounding great with impressive noise-cancellation.

Keep in touch
Manage your day using just your voice with one button access to the voice assistant of your choice.

Listen in comfort
The QuietControl 30 has a lightweight neckband design that conforms to your body for all-day comfort and wearability.

Calling convenience
Noise-rejecting dual microphone system helps reduce the noise around you to deliver clearer calls.

Enjoy your music more
Volume-optimised EQ gives you balanced audio performance at any volume.

SOUNDSPORT FREE WIRELESS HEADPHONES
No wires.
Nothing to hold you back.
Listen wirelessly and stay comfortable with sweat and water-resistant headphones.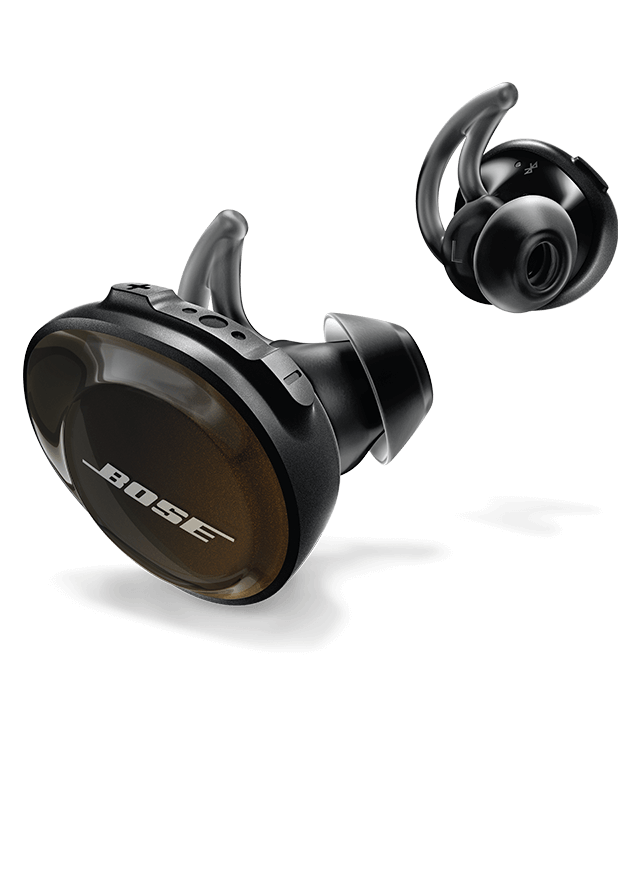 SoundSport Free
WIRELESS HEADPHONES

True wireless design means you can move freely.
Lightweight earbuds with StayHear+ Sports tips sit comfortably and securely in your ear.
Sweat and water resistance means you don't need to worry about your headphones when you're working out.
Never lose your earbuds thanks to the 'Find my Buds' feature in the Bose Connect app.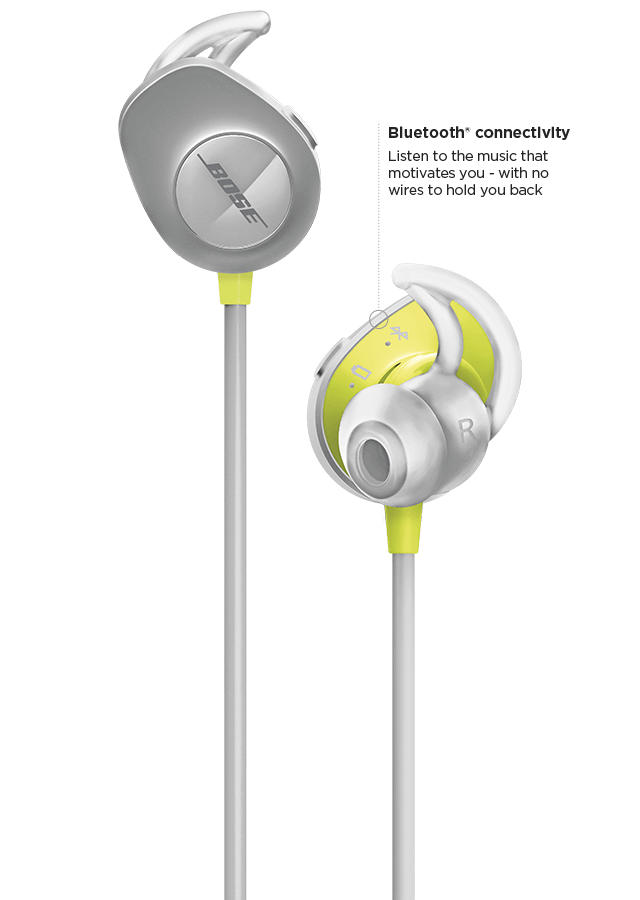 SoundSport
WIRELESS HEADPHONES

Silicone StayHear+ tips have a unique shape that helps to keep them in place.
Connect easily with Bluetooth and NFC connectivity.
Sweat & water-resistance let you work out without worry.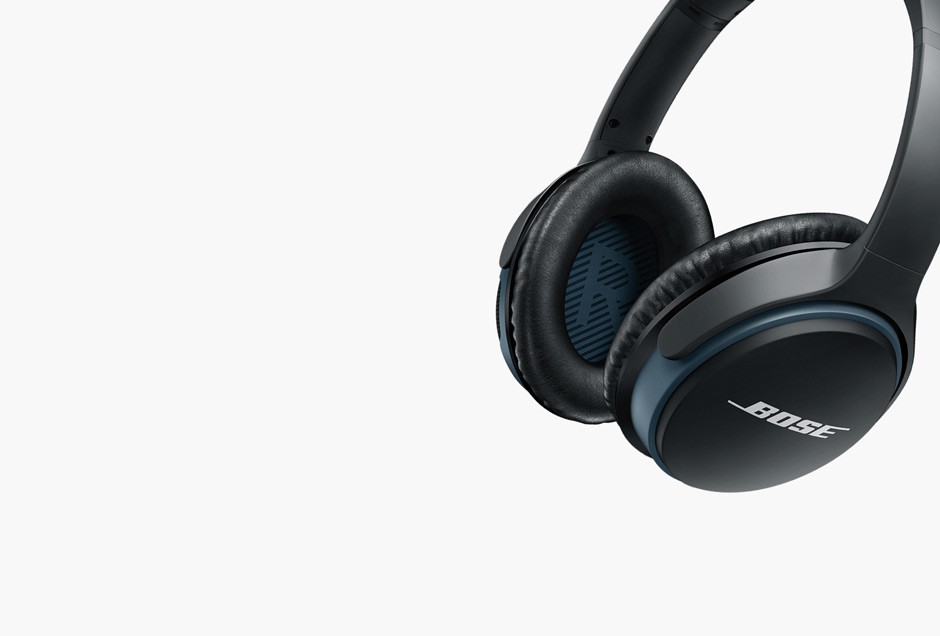 SoundLink around-ear
WIRELESS HEADPHONES

Enjoy a better wireless experience with Bose SoundLink around-ear headphones.
Exclusive technology delivers deep, immersive sound at any volume.
A dual microphone system rejects noise and wind so you'll be heard loud and clear.
Multi-function controls on the right earcup mean you don't have to reach for your device to change volume or tracks.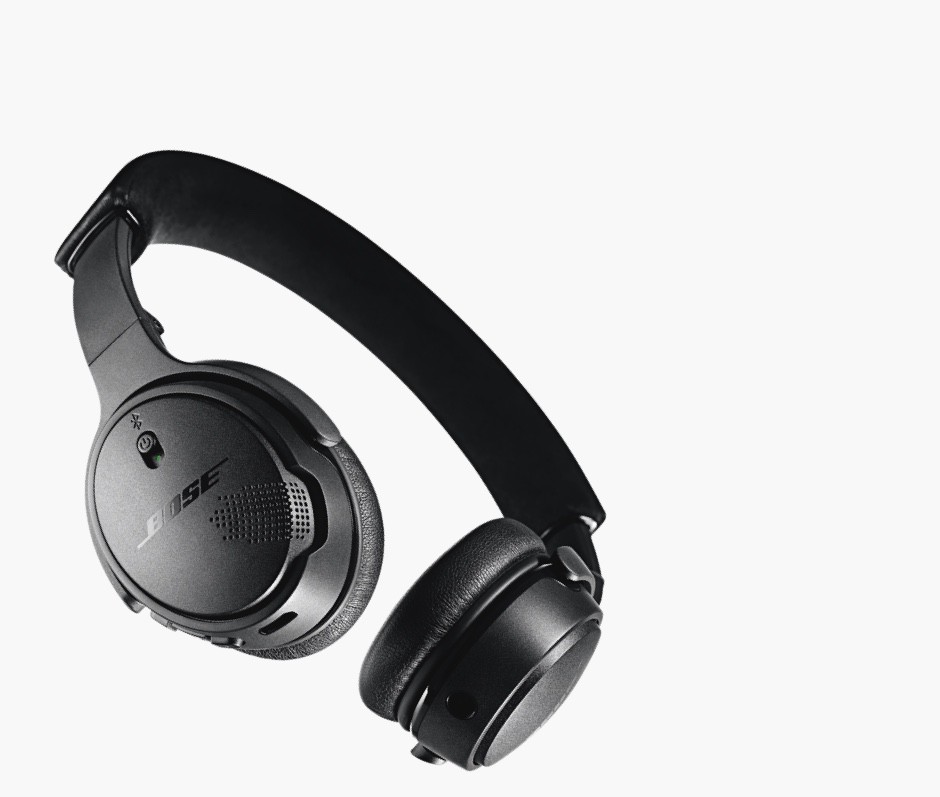 On-ear
WIRELESS HEADPHONES

Powerful sound keeps music crystal clear.
TriPort and Active EQ technology brings sound to life.
Wireless connectivity sets you free.
Voice prompts talk you through pairing and give you updates.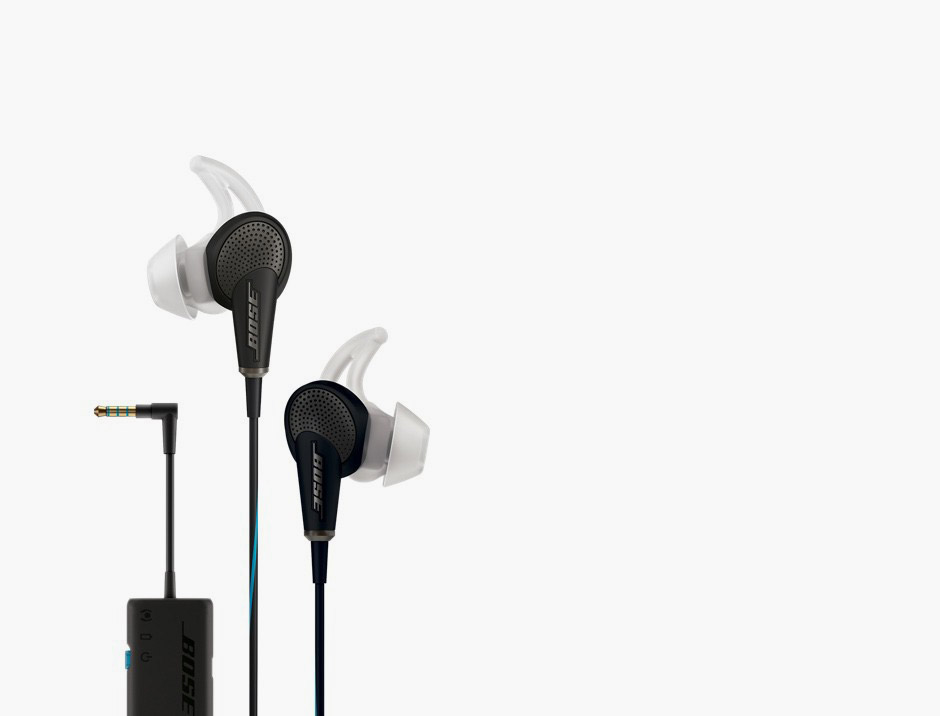 QuietComfort 20
ACOUSTIC NOISE CANCELLING HEADPHONES
Noise-cancelling technology lets you focus on your music.
Aware mode lets you hear what's going on around you.
Bose TriPort technology brings sound to life.
In-line microphone makes it easy to take calls and control music.